News from the west coast: Vancouver will be the latest big city in North America to formally discuss holding fossil fuel polluters accountable for climate change!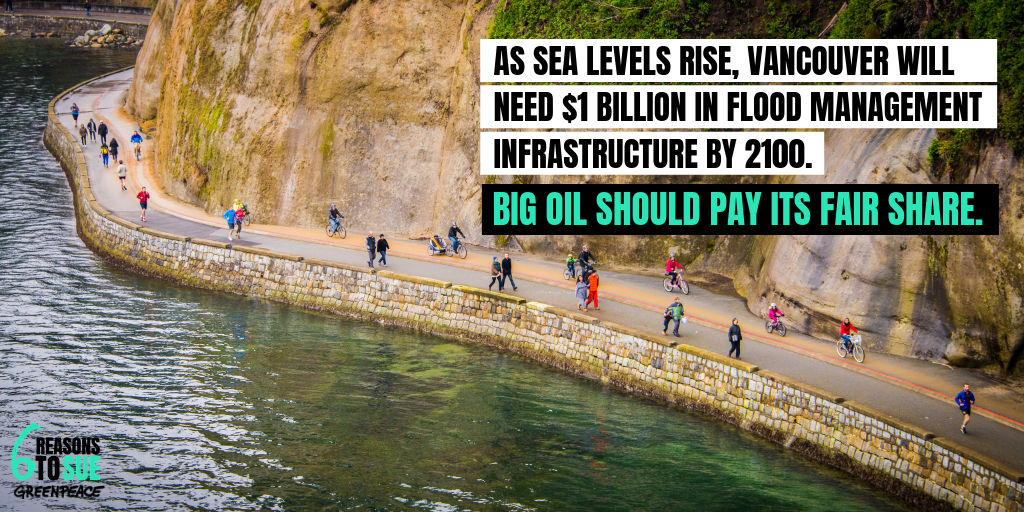 Photo by Ted McGrath (flickr.com/photos/time-to-look)
A motion putting this on the table was introduced to council by Vancouver councillors Jean Swanson and Christine Boyle. So, next week at City Hall, council will debate how they might pursue compensation from companies who misled the public about the role fossil fuels have played in climate change.
Vancouver residents are invited to sign up speak to council about the motion next week.
The motions adds teeth to the council's January's decision to declare a climate emergency. It also comes hot on the heels of members of Toronto's city council's Infrastructure and Environment Committee voting unanimously in April to similarly explore legal options against fossil fuel producers. Greenpeace Canada mobilized hundreds of Torontonians to support the decision.
Pulitzer-prize winning investigative journalism from InsideClimateNews and research by Harvard academics has revealed that not only has the oil industry known about climate change since as early as the 1960s, but companies like Exxon have been misleading the public about it and delaying the action needed to stop it for decades.
Councillors Swanson and Boyle's motion asks Vancouver's Mayor Kennedy Stewart and the council to investigate their options by:
Writing to the provincial and federal governments to request that they enact legislation holding fossil fuel companies accountable for climate-related harms they've caused.
Writing to the 20 fossil fuel companies who are the biggest greenhouse gas emitters and asking that they be held accountable for their fair share of climate emergency costs.
Reaching out to local governments in BC and across Canada (including Toronto) to investigate the potential for shared legal strategies.
Asking the Union of BC Municipalities for motions to both send letters to the 20 biggest fossil fuel companies and ask the provincial and federal governments to enact laws that clarify the right of municipalities to recover climate-related costs from fossil fuel companies.
In passing this motion, Vancouver's city council would be making the responsible choice: investigating all of their options for mobilizing resources to address the climate emergency, while considering the fairest options for easing the burden taxpayers will bear for this.
As our staff lawyer Priyanka Vittal has put it: "Our legal system has tools for holding companies to account for misleading the public about the risks of their products or the availability of safer alternatives. When it comes to climate change, we're all in this together. But it's unfair to make taxpayers foot the whole bill when some among us are more responsible than others. Litigation is an important tool for seeking compensation and liability, and communities have a right to use it."
Cities are on the frontlines of climate change. That's why Greenpeace Canada is supporting Councillor Swanson's motion and calling on municipalities across the country to follow suit.
Vancouver has already seen extreme rainfall cause king tide surges and flooding of the streets, coastal areas and Kitsilano Pool. It's also seen longer hot and dry spells in the summer and more intense wildfire-driven air pollution. As sea levels rise, flood management infrastructure is expected to cost the city one billion dollars by 2100. Recent upgrades to the seawall cost $4.5 million alone.
Sofia, a mother to  a young child and a Greenpeace Canada volunteer, support the motion, saying: "Being afraid to be outside with my baby too long during what is now called "smoke season" and talking to friends with asthma spending time at the hospital, as well as hearing about water scarcity and desertification back home in Peru and many other scary climate trends in the world, I worry so much about my daughter's, and all of our futures."
Suing big oil isn't as far-fetched as many people think (check out this opinion piece). New York, San Francisco and Baltimore are already doing it. And similar precedents already exist in the tobacco and opioid drug industries.
South of the border, the majority of Americans think that fossil fuel companies should pay for the damages of climate change. We don't have to choose between holding oil companies accountable and holding governments accountable. We can do both. In fact, the fact that we're in a climate emergency means we should be doing everything we can.
Holding polluters accountable for the damage they have caused can empower Vancouver to fully respond to this climate emergency while still acting on the city's affordable housing crisis, including investing in climate-resilient housing and other infrastructure.
Want more details on the mounting evidence that the fossil fuel industry should be doing more to help fund the climate emergency response? Check out our new briefing note laying out 6 solid, data-backed reasons why Vancouver's City Council should explore suing Big Oil.