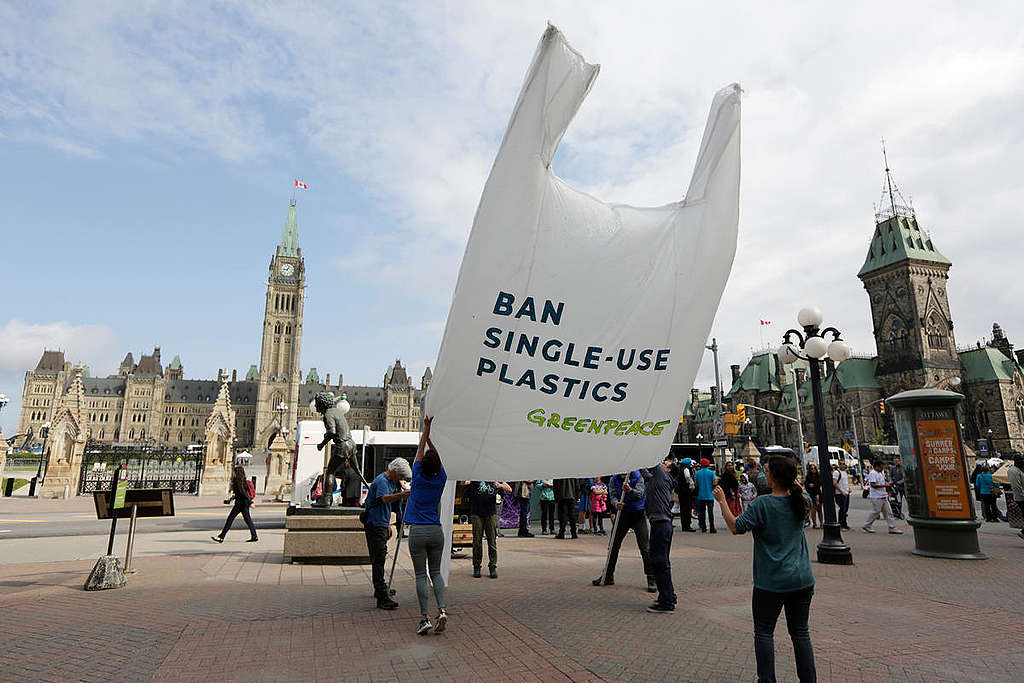 June 7, 2018 (OTTAWA) – One day before the G7 Summit starts in Charlevoix (Québec), Greenpeace Canada sends a hard-to-miss message to its seven leaders by deploying a giant plastic-bag shaped banner that urges strong action to address plastic pollution.
At 9:00 AM, facing parliament hill in Ottawa,  Greenpeace staff and volunteers deployed a large plastic bag shaped sign (measuring 16 feet high x 12 feet wide) next to the Prime Minister's office that read 'Ban Single-Use Plastics'. The message was emphasized with another banner that read 'G7: Recycling Won't' Cut It'. Using the iconic symbol of the floating plastic bag to draw attention to the many types of single-use plastics that are found littered in the environment, Greenpeace Canada aimed to send a timely message to  heads of state who are expected to announce a plastics charter at the G7 Summit later this week.
Explaining why G7 leaders have a unique opportunity to act and a responsibility to prevent plastic pollution from entering our environment, Greenpeace Canada plastics campaigner, Farrah Khan, said:
"Single-use plastics have invaded our daily lives and are polluting all corners of our planet with dire consequences for our environment, communities and wildlife. Today, we're drawing attention to the problem that single-use, throwaway plastics pose and we're highlighting the fact that recycling is not enough to truly curb the flow of plastics into our environment. We need world leaders to tackle this problem right at the source by phasing out single-use plastics that are being produced to be used for minutes and pollute for centuries."
Canadians use at least 3 billion plastic bags per year. Plastic bags and other plastic products can clog municipal waste streams and pollute the environment where they eventually break down into microplastics. Furthermore, only 10 to 12 percent of diverted plastics are actually recycled in Canada. The rest is burned, sent to landfill or ends up in the environment. Recent studies have found that microplastics are entering our food chains and even ending up in tap and bottled water.
Despite what is accomplished at the G7 Summit, the seven leaders, including Prime Minister Trudeau, must take bold domestic action to stop plastic pollution at the source. The Canadian government is in a unique position to show leadership on this issue and help shift the narrative for real solutions, legislate ambitious reduction targets for companies to phase out the production, sale and distribution of polluting single-use plastics, and invest in delivery systems based on reuse and innovative, sustainable and socially-responsible alternative models.
"We're concerned that false solutions such as setting recycling targets will take priority in the G7 plastics charter, instead of charting a course for healthier and more sustainable ways for people to provide and receive goods. We need the right kind of action, right now, and that includes strategies to ban single-use plastics and to pilot models based on reuse, similar to steps the EU Commission and the City of Vancouver are taking." added Khan.
Canada generates about 3.25 million tonnes of plastic waste each year — the equivalent weight of over 140,000 full garbage trucks — and is the largest producer of waste per capita in the developed world. Recent investigations and events like the China ban on certain waste imports have further exposed the inability of the country's recycling and waste management systems to process the volume and composition of plastic waste.
Forward-thinking cities including Vancouver and Montreal are taking steps to implement single-use plastics bans. Greenpeace is urging Canada to follow these examples and those of the United Kingdom and the European Commission, and ensure comprehensive action to address plastic pollution at the source.
 -End-
Greenpeace Canada has launched a new action page inviting people to add their voice to the Canadian government's consultation on the development of a national strategy on plastic waste and marine litter to help end plastic pollution at the source.
Photos will be uploaded to this link: https://media.greenpeace.org/shoot/27MZIFJWXPGEQ
For more information, please contact:
On the ground, in Ottawa:
Loujain Kurdi, Greenpeace Canada, Communications Officer, 514-577-6657, loujain.kurdi@greenpeace.org
If unavailable, please contact:
Marie Moucarry, Communications Officer, Greenpeace Canada, 438-993-6127, marie.moucarry@greenpeace.org