The Kenyan government's single-use plastic carrier bag ban came into effect on 28 August, 2017. However, there are still a number of unregulated suppliers in Nairobi's informal settlements supplying smuggled plastic bags on demand to small scale retailers.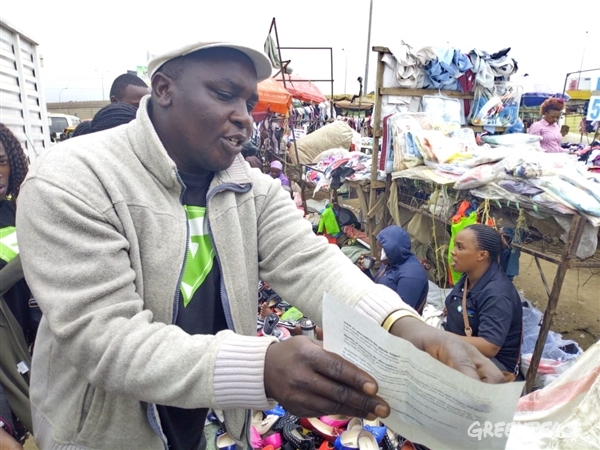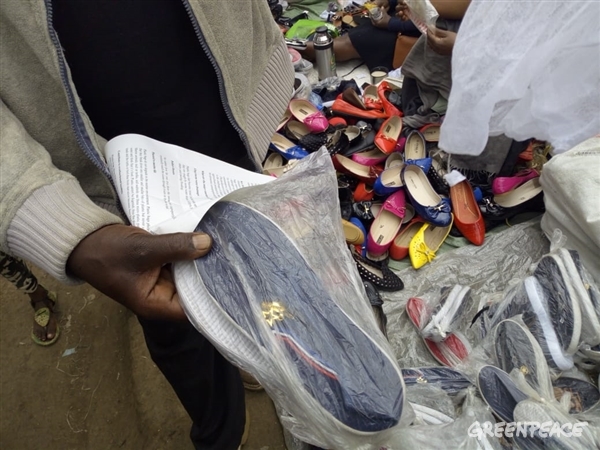 Single-use plastic bags still in use by small scale retailers in Nairobi's informal markets.
In observing International Plastic Bag Free Day, Greenpeace Africa staff and volunteers conducted an awareness campaign in Nairobi's Githurai Market. This was aimed at sensitising retailers and consumers on the impact of plastic pollution on the environment and human health. The team reiterated the need for Kenyans to adopt 100% re-usable and eco-friendly alternative packaging materials such as canvas bags, paper bags, clothing bags, sisal bags (Kiondo) and papyrus bags available in the market.
Additionally, the team  explored with retailers and consumers the benefits of adopting these alternatives to plastic carrier bags. For example, the benefit of reusable shopping bags being available in different materials, colours and designs and most of them being light in weight, washable and highly durable for years and years of use. In addition, businesses logos and contact information can be put on custom-made reusable bags. This is an effective marketing technique because customers typically have these bags for years. Therefore, using branded reusable bags can be a very effective marketing campaign.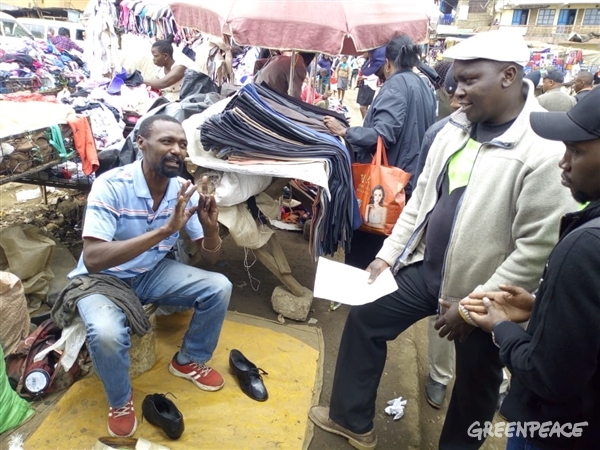 Greenpeace Africa staff and volunteers engaging retailers on the impact of plastics and exploring alternative solutions in the Nairobi's Githurai Market.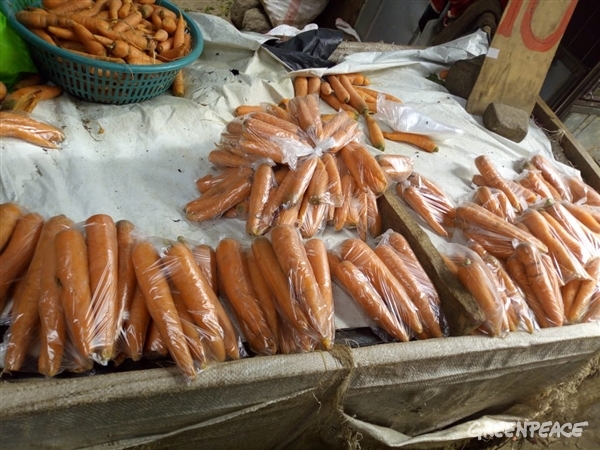 Single-use plastic bags still in use by small scale retailers in Nairobi's informal markets.
Overall, it was a great opportunity to create good working relationships with the informal settlement consumers and retailers for future engagements around issues of plastic. Pollution is often the result of a collective impact – retailers supplying plastic bags, consumers throwing away plastic bags. Thus, getting people to change their ways and adopt more sustainable habits when it comes to single-use plastics is an ongoing challenge, but there is strength in numbers – a thousand small actions, can add up to a big impact. For instance, instead of buying water in a plastic bottle, one can buy a metal bottle which can be reused. Recycling old household items is another way of reducing plastic pollution. Changing the throw away culture and adopting a practice of separating waste at the source will also ensure proper waste management. Consumers should also use biodegradable bags for shopping instead of using a plastic bag.
Greenpeace Africa is calling on retailers and consumers to support the plastic bags ban and change their consumption behaviours especially when it comes to plastic waste.
We urge all Kenyans to know the importance of preserving the environment and look for sustainable ways of recycling the plastic already polluting the environment into useful items.