The diary of a Solar Lover – Part 1
The Renewable Energy Champions Campaign is a Greenpeace Africa campaign aimed at getting the country's top five retailers, Woolworths, Pick n Pay, Spar, Massmart and Shoprite, to show solar energy some love by making the commitment to go 100% renewable energy.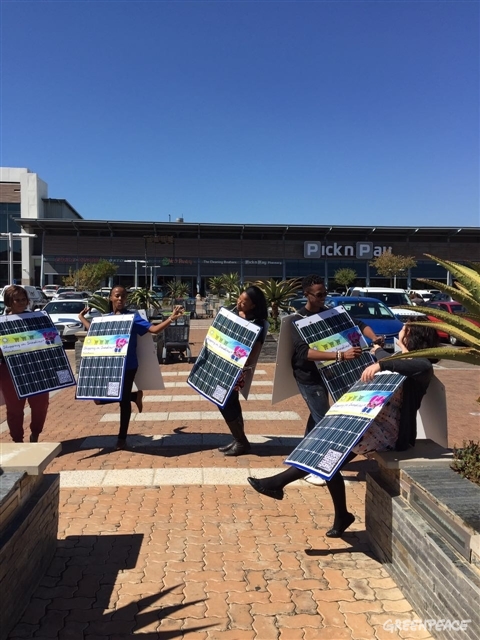 For a solar lover that would be a breakthrough, finally solar getting the recognition it deserves. Imagine installations happening  all over South Africa, solar playing its part by feeding energy and electricity from the sun directly into these stores for years to come. It doesn't end there!  Solar energy could then be made cheaper and available for all South Africans.
Solar Lovers are the mascots of this campaign. Our visibility to the public is there to show the level of engagement and support that is crucial to get Woolworths, Pick n Pay, Spar, Massmart and Shoprite to listen. Our goal is to increase the presence and exposure of the Courtship between the sun and the supermarkets. We do this by visiting different supermarkets in all location every Thursday. We arrive  unannounced and speak to customers involving all audiences, challenging the status quo, urging them to put pressure on their favourite supermarket to act. We want to engage with as many customers as possible inside the stores. After all, they are the main cheerleaders of this beautiful love story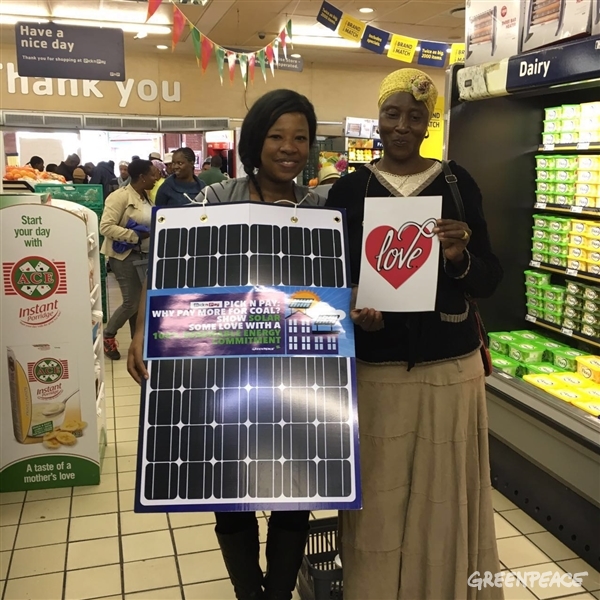 Being a Solar lover comes from the heart and who doesn't love the sun? All it takes is a ray of sunshine from the sun to be inspired to get involved in this Solar Romance and expose that supermarkets are being powered by dirty energy. We are sending out the message for supermarkets to quit Fossil Fuel and show Solar some love. We want to turn this love story from a crush into a raging romance, holding back nothing and making this the turning point to building a safer and cleaner environment for South Africa's future generations.
In the famous words of William Shakespeare, "To be or not to be, that is the question". Solar Lovers say, "You too can be! Play your part and volunteer to become a Solar Lover".
You can also follow our journey online every Thursday on Facebook or Twitter as we turn up the heat till our final stand up in the campaign for 100% renewable energy.
By Sphume Msomi